First, the updates:
I mentioned on May 20th, 2020, that I had a private goal I had set for myself. I haven't updated everyone to this point, but I am doing well on my path to achieving my goal so far.
If you didn't catch the end of my last post, I will be posting on Monday, Wednesday, and Friday evenings this summer (most of the time).
Now, for the "uncomfortable".
As the world around us is mourning the tragic, horrible murder of George Floyd in what is another example of the racial injustice + institutional racism in America, my heart hurts for the African-American community.
For a while, I didn't feel I properly knew how to respond.
However, Carson Wentz, quarterback of the Philadelphia Eagles, put my thoughts into the best perspective I could think of: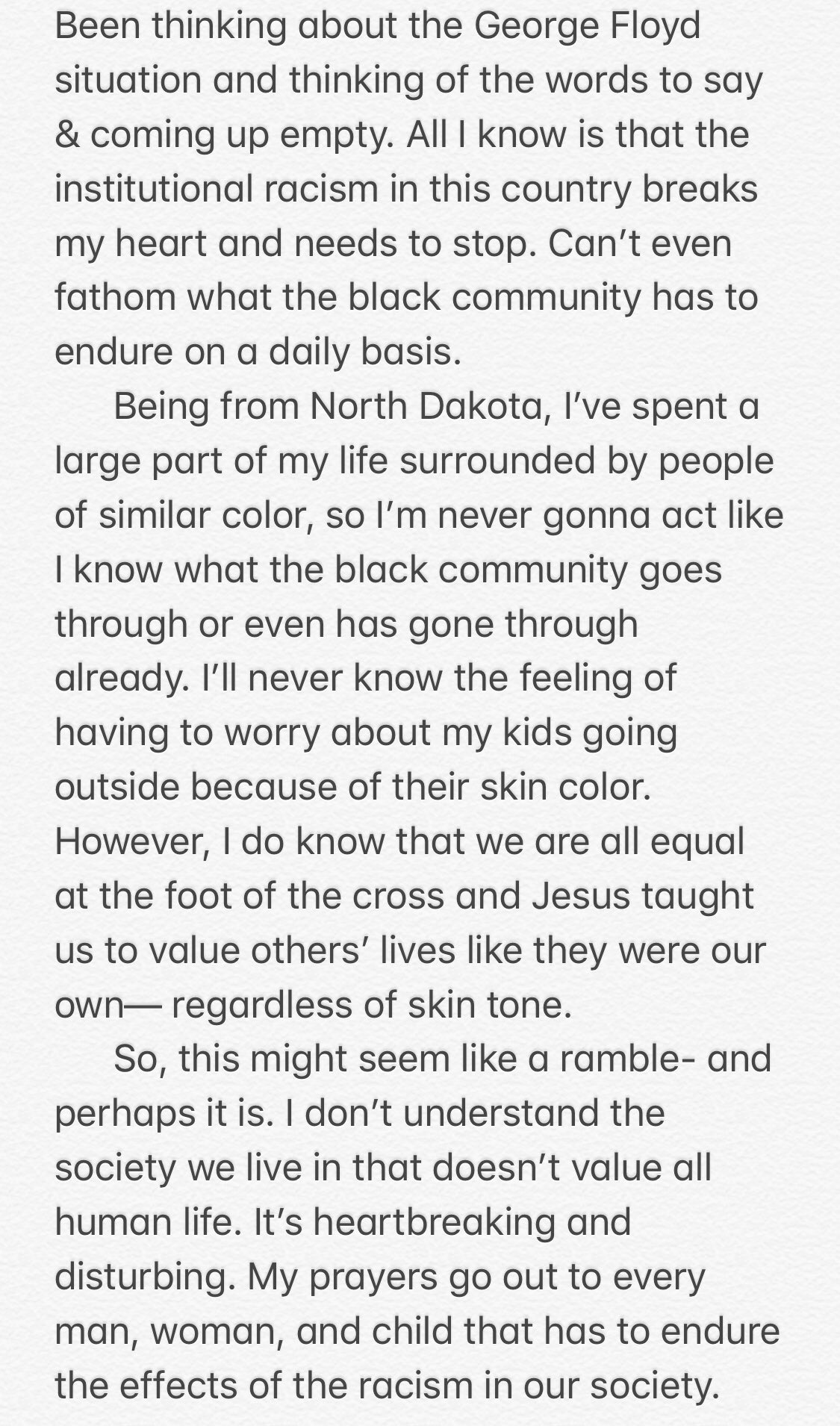 I will never experience the prejudice and hatred that many in the African American community have felt.
I understand my privilege – and it makes me uncomfortable.
I know that my privilege gives me comforts that African Americans don't have – and that hurts my heart. It's the definition of wrong and unfair.
I want all of the world, no matter our differences in physical structure, emotional intelligence, political opinion, etc. to experience equality, love, and all the goodness the world has to offer.
I know that these protests are violent, and violence isn't something I condone, but I am aware that many significant moments in history have come from violent acts/riots/protests.
People have a right to be angry.
However, I do hope that we stay as safe as possible while protesting for this cause.
I pray and hope that as these protests wave across America that we realize how lucky we are to have the blessings we have in life.
No matter who we are, we all have so much to be thankful for.
This is a time where it is easy to think everything sucks, but there's always good things around us.
I hope we get through this time where we begin to all treat each other how we should be treated: Equal, loved, and important.
All of us are special.
Don't forget it.
NS